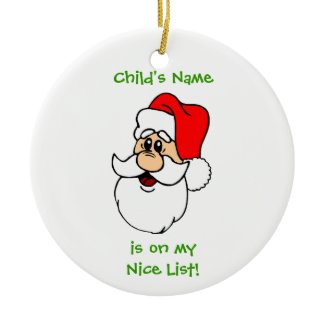 Each year as the holiday season approaches, kids are reminded that Santa is watching and they need to be on their best behavior to make it to Santa's Nice List. Nobody wants coal in their stocking.
Toys on Christmas morning is a sure sign that a child has made it to Santa's Nice List. But with an accomplishment like that, shouldn't there be another way to reward your child for good behavior? Here are some suggestions on how to do that.
The simplest way to make sure your kids know they're on Santa's Nice List is to send a personalized Santa letter with a Nice List certificate. Companies that sell Santa letters, such as Package from Santa, have beautifully designed certificates in some of their packages. You can get printable Nice List certificates from Printable Santa Letters.com and other sites online. Creating your own Santa letter and certificate is a great way to ensure that Santa says just the right thing.
You can also let your kids know they've made it to Santa's Nice List by sending a free Santa message video from the North Pole. These are available from Portable North Pole.tv and are free to create and view. (You'll need to pay a fee if you want to download and save the video file.) In the video, Santa mentions your child by name and says whether they're on the Nice List or Naughty List.
Finally, you may want to surprise your kids on Christmas morning with a Santa's Nice List Christmas tree ornament from Zazzle, like the one shown on this page. Kids will love getting the ornament in their stocking with other gifts from Santa, and they'll be proud to hang it on the tree.
All of these rewards will let your kids know they're on Santa's Nice List… and should help remind them to be on their best behavior all year long.